July 16-18, 2012
Ian Parker will be attempting the 2012 Badwater Ultramarathon, a gruelling trek of 135 miles from Death Valley to Mt. Whitney in temperatures approaching 130F that is billed as "the world's toughest footrace". This is the second year since the cutoff for an official finish was reduced from 60 to 48 hours. The world's toughest footrace got tougher...
Last year Ian finished in a time of 52 hr 17 min; his second best time and, although not good enough for an 'official' finish, he counts it as his ninth finish of the Badwater course. This year he is hoping for a tenth (and probably final) finish. To date only 5 people have achieved 10 or more official Badwater finishes; and only 2 of these would qualify under the new 48 hour cut-off.
Ian is using this opportunity to help raise funds for the Andrea Silvestri Memorial Award. Andrea tragically passed away in May 2011. He was a physics researcher at the University of California Irvine; husband of Melanie Matheu, a loyal pacer on my crew for the last 6 years; and he was to have been on my crew in 2011. Melanie has returned to my crew for 2012.
Please click HERE to learn more, and for information on how you may contribute.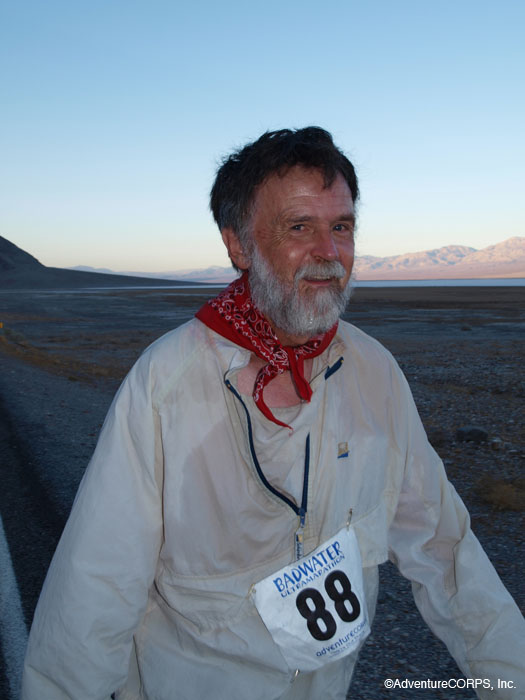 Click HERE to go to the live Badwater webcast
Follow the race on twitter at http://twitter.com/adventurecorps
And read tweets from crewmember Ian Smith at http://twitter.com/ifsmithy

Crew:

Anne Tournay, Ian Smith, George Dickinson, Divya Swaminathan, Melanie Matheu, Steve Wiltgen
---